Let us talk about what it will cost to build a website for business purposes in particular in making money online or for your existing small business. Everything here will be "do-it-yourself" since it is a lot cheaper, if you do-it-yourself (duh, obviously… or is it?!).
Letting others build it for you will cost you and has different variables to it. Like how skillful your website designer is, the scope (or how many pages) you want for your website and of course the cost of maintaining the website. If you pay for someone else to do it, it can cost anywhere from $1,000 to upwards the $100,000+ just for the website design alone. Another $400- $60,000 for the website maintenance annually and thats not even considering additional marketing costs. If you want more statistics on that visit here.
If you just know what you are doing you can save big in terms of money. But if you do not know what you are doing you will lose time and money. I like to think time is more valuable than money, once time is gone its gone. Now if you read on, this is what I would do (and suggest others to do) to have successful website built and running for profits.
[Disclosure: Some of the links in this post are "affiliate links." This means if you click on the link and purchase the item, I will receive an affiliate commission. This means I make money on purchases you do when you purchase items on the clicked links.] I do this to earn money from writing and will only share affiliate links for products and services that I use in my online business.
About How Much Does It Cost to Build a Website
You probably just want to know the numbers now. So let us begin with that and if you want to read on, thank you.
So the cost of building your own website by yourself from scratch will be listed down as a monthly expense and then also computed as the yearly expense.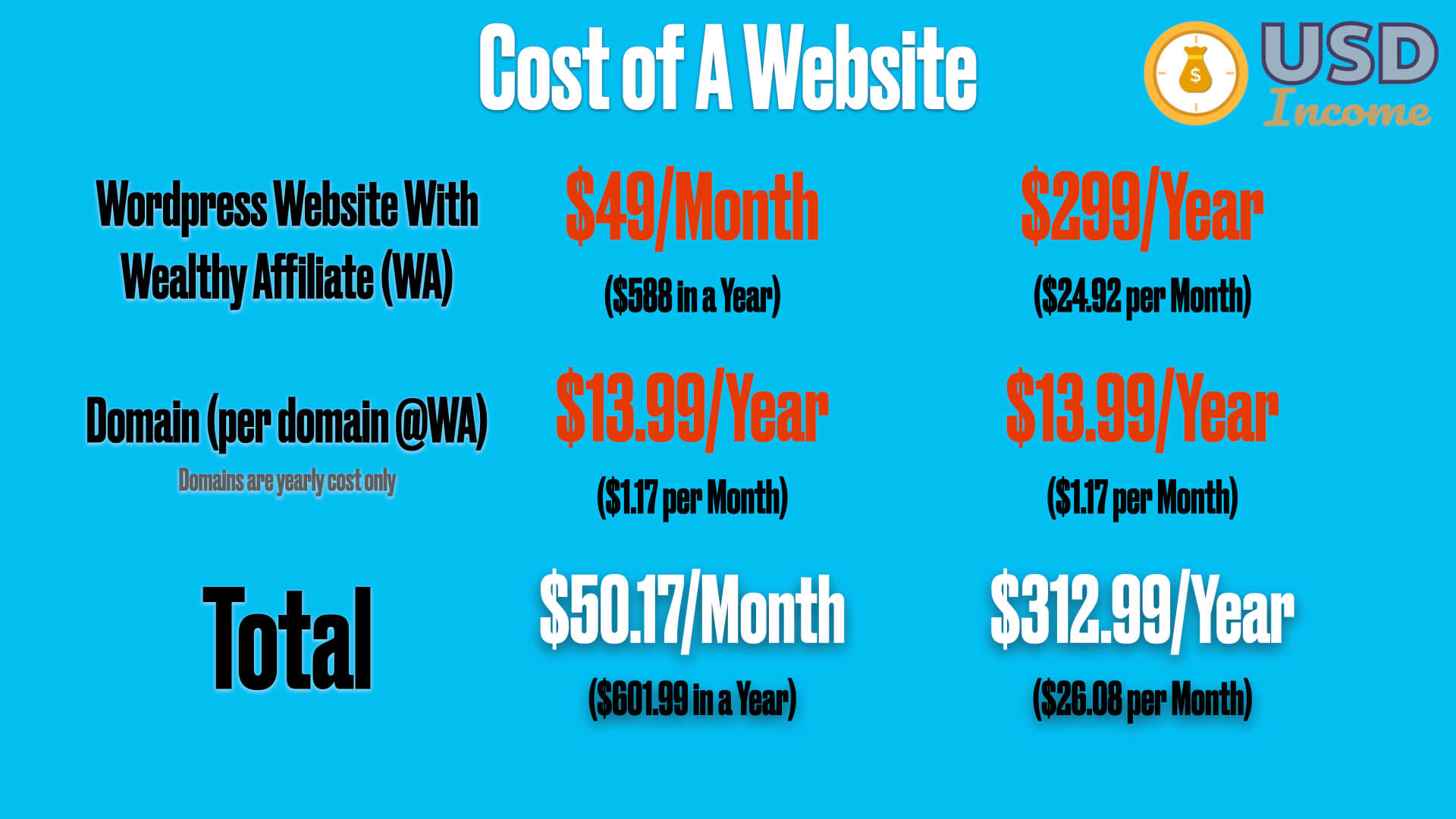 It is that simple and believe me or not that is all you need. $50.17 a month or if you go yearly at start $312.99 a year. By going yearly you can save $289 per year.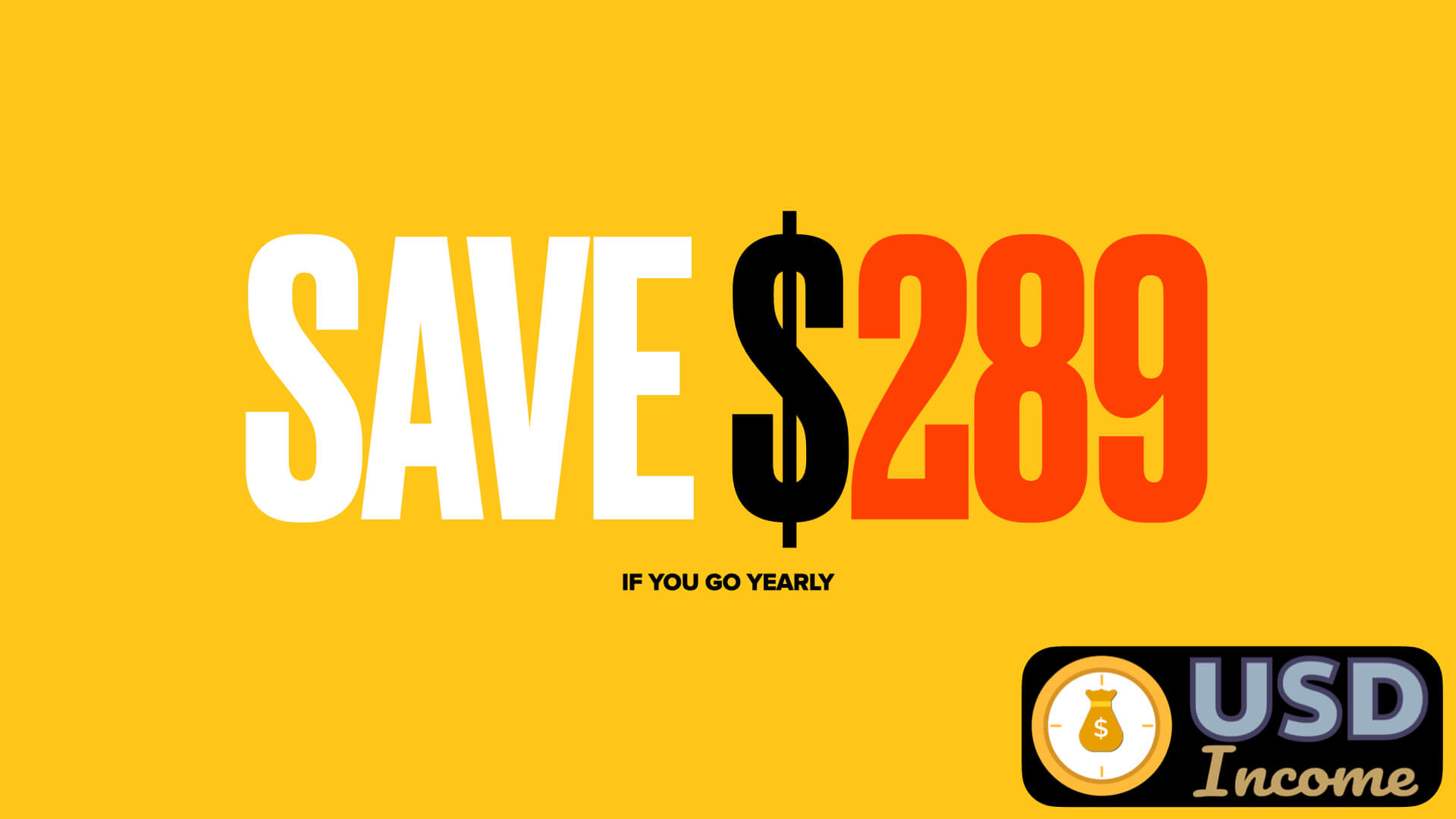 That is your business expense when building a website for your online income. I would also like to note that I am not a financial advisor so with regards to taxes you better talk to an advisor near you that you can consult properly. Taxes, permits etc. is part of your expenses (in some instances local authorities may leave you be to a certain monetary threshold, once you reached that threshold they will go after you, since its worth the effort when you are making money.)
This also does not include paid advertisement and other optional expenses. You may want to add those once you have proven you can make money with SEO (search engine optimization) or in layman's term make money from "free traffic". SEO requires time involvement which makes it no cost in terms of money expenses, but you need your time and some waiting time before sales aka commissions come from the traffic you generate.
What is WordPress?
WordPress is actually a FREE open source website creation platform or also known as content management system (CMS).
Please don't confuse WordPress with WordPress.com which is a blogging platform (free to join) based on WordPress. WordPress the CMS software is widely used in the internet. Check this article by wpbeginners to see many top brand examples.
There is Sony Music, Time, MTV News, Beyonce, and the Walt Disney company to name a few on the list that have their website built on WordPress. Not only the big names can make use of WordPress. From individuals like coaches and fitness trainers to small and medium enterprises local or anywhere in the world are using WordPress for their websites.
Why WordPress?
To put it simply, WordPress makes creating and managing content for blogs, peronal sites, business sites, and ecommerce sites easy. You can do it by yourself or easily hire people to form a team to do it for you. There are a lot of people that can use WordPress and its easy enough to understand and learn by people who have zero experience with the platform.
Another thing to note is that WordPress has a big community with support coming from that community. There are so much information and education on WordPress out on the web written or as videos. Not to mention there are a lot of forums you can ask in.
Open Source With a Large Community Support
Because it is open source and has a large community, it also means there are a lot of ways to enhance your website. There are multitudes of plugins and templates both free and paid (premium). Once WordPress is installed for your website, it can literally take 5 minutes to have a good looking and professional website for your needs. Customers or viewers won't even know you don't know how to code.
That being said if the free and premium stuff is not to your liking or needs. You have an option to hire developers (for a much higher cost) to provide you a custom solution, but for most businesses and needs that is not necessary and maybe overkill and waste of time and money. You are reading this to keep the cost to the essentials and yet have an impact like in big businesses.
Optional Enhancement
This is optional but maybe the free stuff is not working for you. I am suggesting to you, the Divi theme which is also a website builder that does not require you to touch any line of code.
This product is from elegant themes and will cost you $89 a year. (I am short selling this membership since it is a different topic, but you will get a lot of value here.)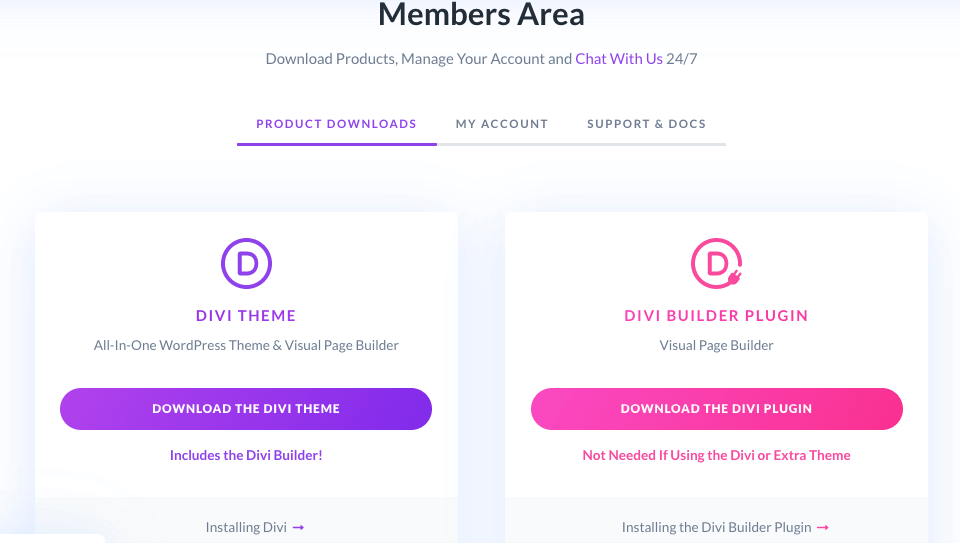 You don't have to purchase for the following years but you will lose update and support and this could become a security risk. Updates are important especially if it patches a security issue that could otherwise be the loss of your website(s.) (There are a lot of hackers out there. They are just doing their worst for everyone, don't assume you will be safe.)
This is an affiliate link and totally optional.
 I have been using this for years and have used it on client websites as well. It works and makes life easier. With this the design is finished and you can focus on content, SEO, and marketing (basically things to bring in visitors and get sales).
What is Wealthy Affiliate (WA) to make it cost effective
I have written an extensive Wealthy Affiliate review here. If you want to know more about WA, that is worth reading.
Below is just a summary of why WA makes an online business more cost effective having it then without.
There are two ways to start going. The free Starter option is good to see if it is for you and if you can see yourself following the training succeeding.
Premium (monthly or yearly cost) is good once you are sure you can follow along the training and want to continue with WA.
Below I am discussing Premium features.
Why Wealthy Affiliate and What is Affiliate
Wealthy Affiliate is one of the best training in affiliate marketing using free traffic methods mostly via SEO (search engine optimization).
SEO helps you rank high in search engines like Google. The first three spots of the first page of a search term in a search engine is the best outcome (if you don't understand so far… I bet you need WA, it will save you a ton of time).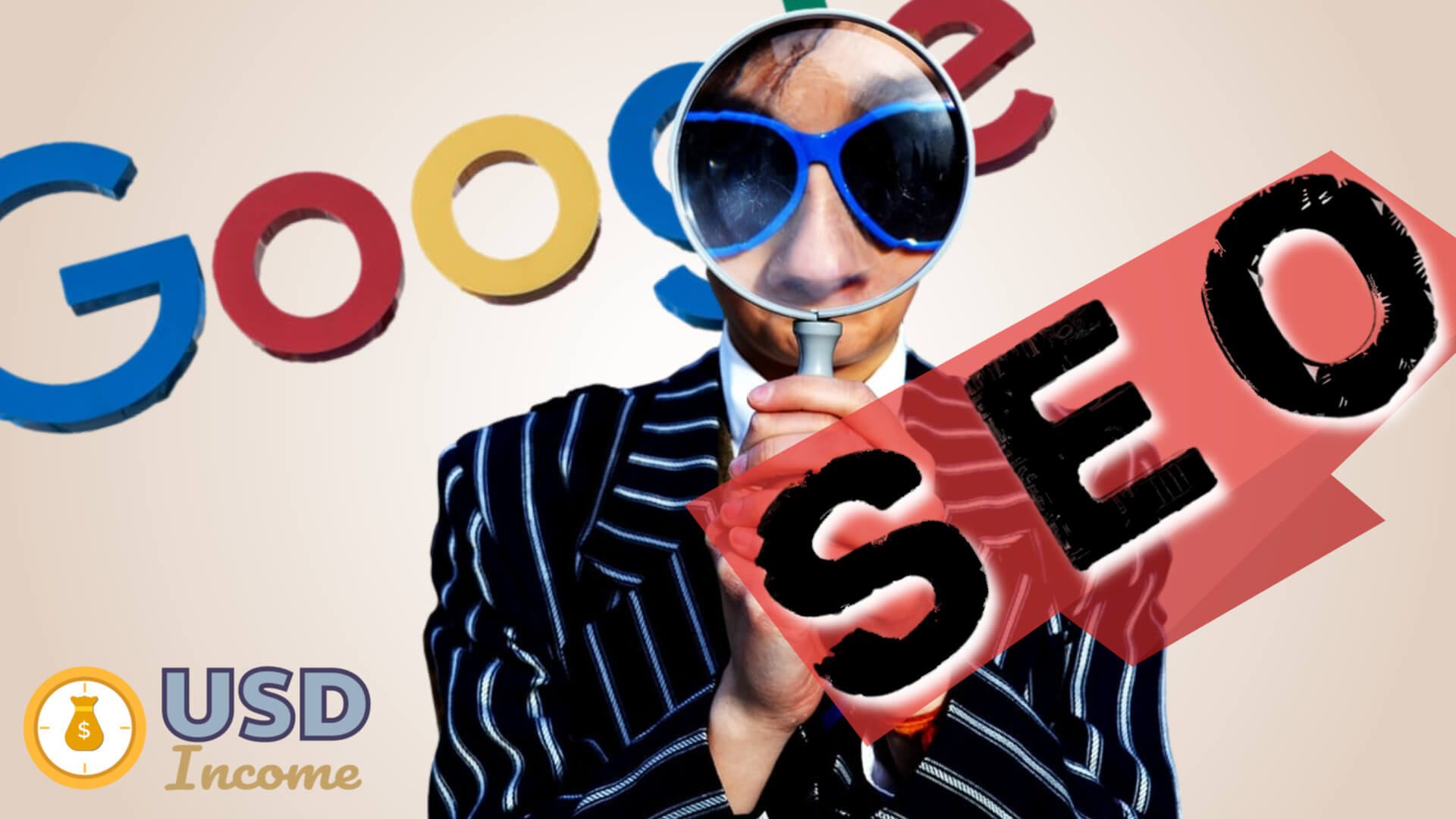 What is an Affiliate?
Affiliates are basically people who share or promote other people's or business' products or services. Affiliates earn a certain commission from the promotion. It is usually 100% free to join an affiliate program of businesses, with commissions from 1%-90% and there are also programs that can give 100%. All affiliates need to do is send traffic to affiliate links that the company that they are promoting provide.
Note: Physical products are usually in the 1%-10% range while digital products is in the 30%-100% range in terms of commissions.
Here is where Wealthy Affiliate comes into play. They have a whole system which includes training for you to learn to affiliate marketing. Because it is marketing (digital marketing to be precise) you can actually use the same strategies for any type of business. I am using the same strategies for local businesses like clinics, retail stores, and gyms for their websites (remember digital marketing) and it works.
Every business needs marketing so the training in WA helps a lot. If we use small businesses and franchises as comparisons. Small business usually depend on the owners to make the decisions with or without a system. Depending on the sources, failure rates are between 70%-90% with data only up to the 5th year of a small business. If you are franchising, data for mature franchises (not new franchises) have success rates at 70%-90% for up to the first 5 years.
Franchises have a system compared to having your own small business which increases your chances to be profitable with franchises. Now online business with the affiliate marketing business model is like a small business. If you do it alone without training, without a system you will spend more money and time, before become successful and the longer something takes to succeed the easier it is to quit hence you can end up with failure rates like small businesses.
Now affiliate marketing with WA premium membership changes your small business similar to a franchise, because WA provides training and the system succeeding online, your chances for success increases in the shortest amount of time possible for you.
Below are some features.
Training
As mentioned WA has training. There are core trainings and weekly live trainings. To top it off the live trainings are recorded and are still viewable.
The core training is the business blueprint or fundamentals. With it you can make money if implemented properly. It is regularly update, when it is relevant to update. For fall to winter 2021 major updates are planned.
Community
WA has developed a community that helps each other. Members of WA community are encouraged to ask help and to provide help. In so doing, it trains people to provide value and relevant content.
Members have access to live chat, which seems to be always active. Questions section where members who have questions ask their questions and also get answered by the WA community. And of course there are member blogs.
No spam like activity or affiliate promoting is allowed inside the community so that only genuine help is provided. This policy helps keep the community a safe environment.
Tools
The tools you get from WA is the following
SiteManager – manage all WordPress websites you have hosted with WA
SiteBuilder – easily deploy a WordPress website
SiteDomain – for extra cost buy domains and manage domains bought in WA and other providers.
SiteContent – writing platform that integrates with WA hosted sites for easy publishing.
SiteComment – get comments from others in the WA community.
SiteFeedback – get feedback on your websites from the WA community to know what you can improve.
Jaaxy – Keyword research tool to help write content that ranks in search engines.
Hosting
WA provides world-class WordPress hosting. I feel it is one of the best in the industry when it comes to WordPress hosting. There are other types of hosting but I won't get into those here.
All you need to know is that they have the security covered on their side with their servers. In addition, they provide SSL to all sites hosted with them for no additional charge both starter (starter no own domain feature) and premium memberships. SSL is when your website has https in their domain link. See below image.
Support
Aside from support from the community and founders, there is actually a tech team behind WA that provides world-class support.
I had a few technical issues which they handled in under 10 minutes after responding to my support ticket in under an hour. Most hosting providers don't do that. The cheap ones are anywhere from 1 day to a week. The bad ones might never reply. And even some other word class hosting providers might get you within 24 hours and some more might charge extra for fast support.
With WA fast world-class support is included with premium membership at no additional charges.
 Conclusion
Affiliate marketing is a cheaper way to start a business. You are basically promoting other people's products or services. But the training in Wealthy Affiliate actually goes beyond that since you can actually use what you learn for your OWN products and services to skip being the middleman.
The root word for Affiliate Marketing is marketing. Once you learn it, it becomes digital marketing for you, which you can use for your own stuff. Once you get the money you can add another business like a new franchise business to incorporate your digital marketing skills with. This should increase your chance of success while starting with minimal investment. Maybe if you do get the funds and you could go with mature franchises and try your skills without, but by then you might be doing well enough that you just start your own or do more online businesses.
Here is something to think about. If you spend $312.99/yr, and get from one site an income of $300/ month. A thing you could do to get $3000/ month is to build 9 more websites. I did not discuss how much it will cost to have more websites, but for WA Premium members they can have 25 websites on their membership meaning that you will just pay additionally for domains. Domains as shown above are $13.99/yr for each domain.
Of course another course of action is just work on a single site to make it earn $1,000 – $100,000.00 per month. Possible?!… you bet it is, especially if you get your WA access here.
Minimal expense with such a high potential to earn profitably. But you need to understand it is potential and it is your potential. Everything will fall on how well you follow instructions and how well you do what is needed succeeding in business. Unfortunately, everybody is different and things may take weeks to years and some will also fail. No one can with 100% certainty guarantee you will be successful.